An all-time debating question is, "Which came first, the chicken or the egg?" Well, the answer is still a question! But if one is to question the nutritional value of eggs, then it is definitely a powerhouse of nutrients. Loaded with protein, fat, iron, vitamins, minerals and carotenoids, eggs definitely find a place on the platter for a balanced and healthy diet. It is also believed to improve cholesterol levels as well.
The best part of consuming eggs is that they can be taken in various forms as per your taste and requirements. Scrambled eggs, boiled eggs, omelettes, fried eggs, poached eggs and shirred eggs are popular amongst egg lovers. A variety of delicious bites can be prepared within a short span of time, with the main ingredient being egg!
Scrambled Eggs: Healthier or Tastier?
Scrambled eggs are not only pocket-friendly but also a storehouse of nutrients. The cholesterol present in scrambled eggs has antioxidant properties, thereby making it up for several deficiencies in the human body. Scrambled eggs are the most popular ones owing to their taste and texture. Soft and creamy scrambled egg curds which are shiny with moisture, give scrambled eggs a very appealing look. Moreover, not a single strand of raw egg remains in its preparation, making it a hit amongst the kids as well. Once you get the hang of preparing it, you are supposedly relieved of juggling to maintain a balanced diet.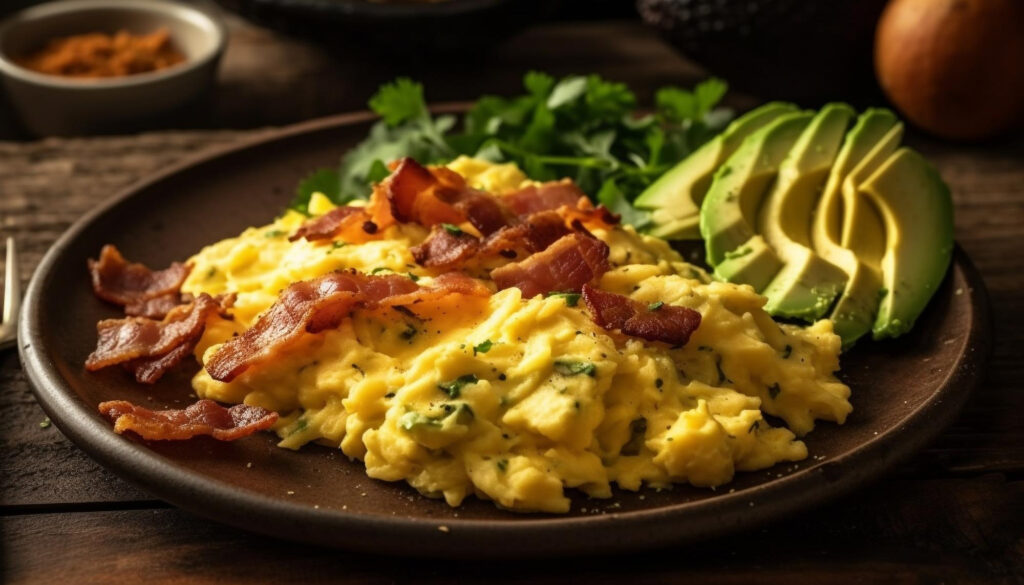 How to prepare Scrambled Eggs?
n case you are a novice at cooking, scrambled eggs are one of the easiest, safest and healthiest dishes to try your hands on. Just check it out!
Ingredients:
3 to 4 eggs (as per the serving)
2 medium-sized onions or 4 strands of spring onions (as per the availability)
1 medium size tomato.
Chilli powder, coriander powder, turmeric powder and pepper powder (as per taste)
Kasuri methi or coriander leaves (optional)
2 tablespoon oil
Salt to taste
Method:
Heat oil in a pan and add the finely chopped onions. Sauté it for some time till it turns pink. Add chopped tomatoes and further sauté it till it mixes well. Add all the spices as per your taste and crack the eggs one by one carefully to add to the preparation. Keep the flame medium to low so as not to overheat the mixture. Keep on stirring, folding and dropping with a spatula to mix it well. Adding a little water once or twice will make the eggs fluffy and the chances of the mixture sticking to the pan get minimal. When the oil leaves the sides, your scrambled eggs dish is ready. Sprinkle with kasuri methi or chopped coriander leaves. To make it a wholesome meal, you can have it along with chapatis. Variation in the taste can be done by adding milk or lemon juice.
Boiled or fried eggs, which is healthier?
It's a fact that if Proteins are overcooked or prepared under high temperatures, they may lose their nutritional value. Eggs boiled at a generous temperature are no doubt a very healthy option. They make up a rich source of lean protein and can make you feel full without adding on too many calories. Seasoning it with a variety of herbs and condiments enhances its taste and makes it more palatable. And the ones who are looking out for a weight loss regime are surely to benefit by consuming boiled eggs.
Coming to fried eggs, its quick and hassle-free preparation is a big welcome. The taste buds are always tingling for something fried and spicy, isn't it? Also, those who have an insatiable craving for fried eggs can binge on the fried ones by being mindful of their preparation. Make sure to add the right ingredients so as not to end up getting heavier on calories, e.g. Use ghee or olive oil instead of any oil and also in a small quantity.
Next time, if you are in a dilemma to opt for a healthy snack or a wholesome meal, be assured that you have eggs on your plate!