Chicken Biryani is considered ambrosia, food of the Gods, amongst non-veg lovers in the Indian subcontinent. This mouth-watering, delectable dish can easily hijack the senses as one savours its taste and aroma.
Every non-vegetarian foodie has relished the varied taste of this delicious and aromatic cuisine for centuries. From the smallies to the elder lot, no one can deny the relish of a steaming plate of biryani. On October 11th, a rich and savoury Indian dish is honoured as part of World Biryani Day. It was first introduced to India as a straightforward rice and meat meal from Persia.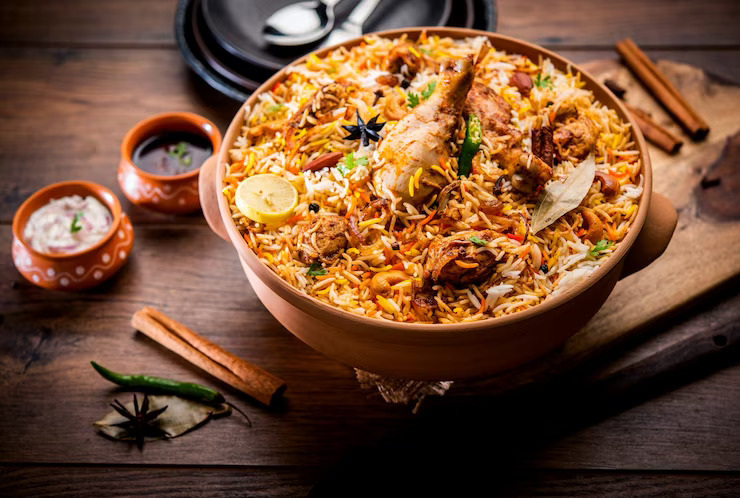 Exciting Tales of Biryani Origin
A much-loved dish in India, it is believed Biryani originated in West Asia. It is derived from the Persian words 'birian' meaning 'fried before cooking' and 'birinj' meaning 'rice'. Exciting tales of how biryani made its way to the Indian table are many.
One folktale attributes it to Timur, the Turkish-Mongol conqueror, who brought biryani's predecessor to India during his conquers. Another folklore credit the Arab traders who introduced this unique dish to the southern Malabar coast. A recorded version of a similar rice dish called 'Oon Soru' is found in Tamil literature. And the last addition to this interesting tidbit is the story of Mumtaz's visit to the army barracks, where she found Mughal soldiers looking malnourished and weak. She advised the chef to create a special one-pot recipe with rice and meat for a balanced diet for the soldiers.
The Much-Loved Biryani
Biryani can be cooked with any meat, be it goat, chicken, beef, lamb, prawn or fish, eggs and even just vegetables. It is cooked in a layered manner with the meat marinade. It is generally prepared by mixing a curry, and later combining it with semi-cooked rice separately. Not only the taste of curry defines how well the Biryani is cooked but also the texture of rice plays an important role in the dish to be complete. A variety of spices and condiments are used to enhance the flavours which may include mace, nutmeg, cloves, big and small cardamom, cinnamon, bay leaves, ginger, garlic, coriander, mint, fennel seeds, onions and tomatoes. Saffron and dry fruits like cashews and almonds are used to give it a richer texture at weddings and special occasions.
It's Chicken Biryani For Many
Originally made with red meat, Chicken biryani has found favour with time. And just like its original counterpart, Chicken biryani has undergone a lot of transformations according to the place where it was cooked and not to mention the available spices and condiments of that particular region.
Chicken Biryani – Different Flavours And Different Names
The interesting part of Chicken Biryani is that the flavours of Biryani are varied and so is its name. Hyderabadi Biryani and Sindhi Biryani owe their names to their places of origin whereas many times Biryani is named after the shop that sells it, like Haji Biryani and Lucky Biryani and so on. Biryani is even named according to its style of cooking as Dum Biryani and Handi Biryani.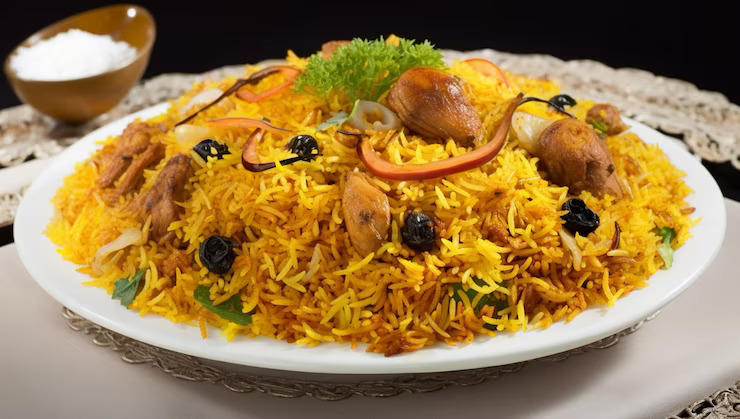 Chicken Biryani comes in a lot of varieties, namely Lucknowi Biryani or Awadhi Biryani which is especially known for its style of cooking known as 'Dum Pukht'. Its fine flavour and rich fragrance make it a hit all over the world. Hyderabadi Biryani is the most preferred option in Biryani due to the varied spices used in its preparation. Kutchi Biryani is apt for the ones who want something spicy and heavy on their platter. Kolkata Biryani has a distinct flavour and is on the lighter side with mouth-watering potatoes to add on. As the culture gets diverse with the change of geographical landscape, so does the taste of Biryani!
There are two basic ways to prepare Chicken Biryani. One includes layering marinated chicken and any accompanying veggies in the cooking dish before they are partially cooked. Different spices are blended into the layers of rice to give it various flavours and colour. Rice and meat are frequently thoroughly cooked separately before being combined just before serving. Surprisingly, there is a slight twist in the taste!
The other style of cooking requires a good hand as it involves layering the dish with raw marinated chicken with pre-soaked raw rice. It is cooked on a low flame and it takes time as slowly the aroma and flavours get infused in the dish. The pot is generally not put on direct flame to avoid burning. Chicken, itself is enough to give biryani the required taste. But adding certain vegetables like potatoes gives it all together a different flavour and the cooking time also gets differed.
Chicken Biryani served along with raita, buttermilk, salads or even pickles complements the dish. The high portion of Carbohydrates and Proteins adds to its nutritive value making it a healthier option. So next time you want to try on something that you will savour for a longer time, Chicken Biryani is surely the right choice to binge on!
So which is your favourite chicken Biryani recipe? Do share in the comment below.